Regular price
Sale price
$30.00
Unit price
per
Sale
Sold out
Tired of hair elastics with charms that eventually stretch and snap, forcing you to discard the whole accessory? Our Pony hooks offer a solution. Simply insert the hook into your hair elastic, while enjoying the added elegance of kintsugi jewelry. Unlike traditional elastics with attached charms, when the elastic snaps, you can easily replace it without losing the beautiful charm part.
Say goodbye to sacrificing style for practicality with our Pony hooks. These unique pieces are a stylish way to enhance your hair game and add sophistication to your look.
Truly one-of-a-kind piece, no identical piece can ever be duplicated
Handcrafted from broken Japanese porcelain + Garnet

 (January birthstone)

18k gold plated hook
Gift Wrapping

Add Japanese style gift wrapping with additional charge (+$3 ) by ticking the box for gift wrapping in the Cart page! It includes one blank postcard that explains about Kintsugi.

When opening the package, you could enjoy a bit of Japanese touch!

Check Japanese style gift wrapping and standard package in the photo or you can find details in the Gift Wrapping page.
Materials

Japanese porcelain, 18k gold plated findings, Epoxy adhesive, Lacquer, Bronze powder, Garnet
Shipping & Return

Shipped from Japan to worldwide.

📢 If you want to ensure your order arrives by the holiday, we highly recommend upgrading to Express.

Standard (Airmail):

FREE shipping on orders over $90
$8 flat fee for orders under $90
2-5 weeks

Express (EMS):  

FREE shipping on orders over $180
$20 flat fee for orders under $180
1-2 weeks

30 days Return & Exchange

Check details in the Shipping Info page and Return & Exchange page.
Share
SKU:22-G004
View full details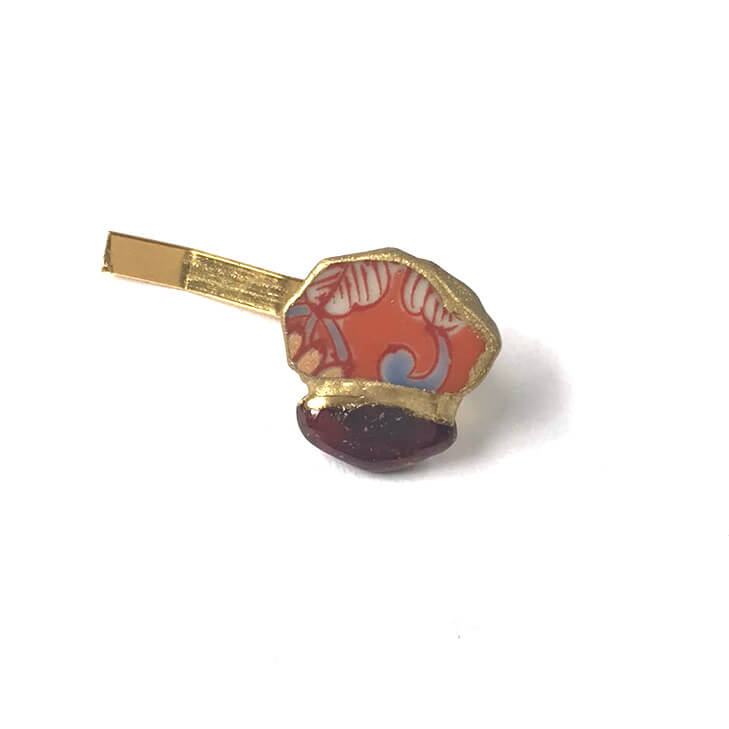 Pieces born from the same pottery...
What is Kintsugi Jewelry?
Driven by the belief that broken, imperfect things are every bit as beautiful as whole ones, kintsugi jewelry was born. Instead of attempting to hide the imperfection, this technique puts it front and center as something to be cherished.
As human beings, we are all far from perfect, but it is that imperfection that makes us unique, attractive, and interesting. Each piece of kintsugi jewelry serves as a reminder that our imperfection is not only beautiful but valuable as well.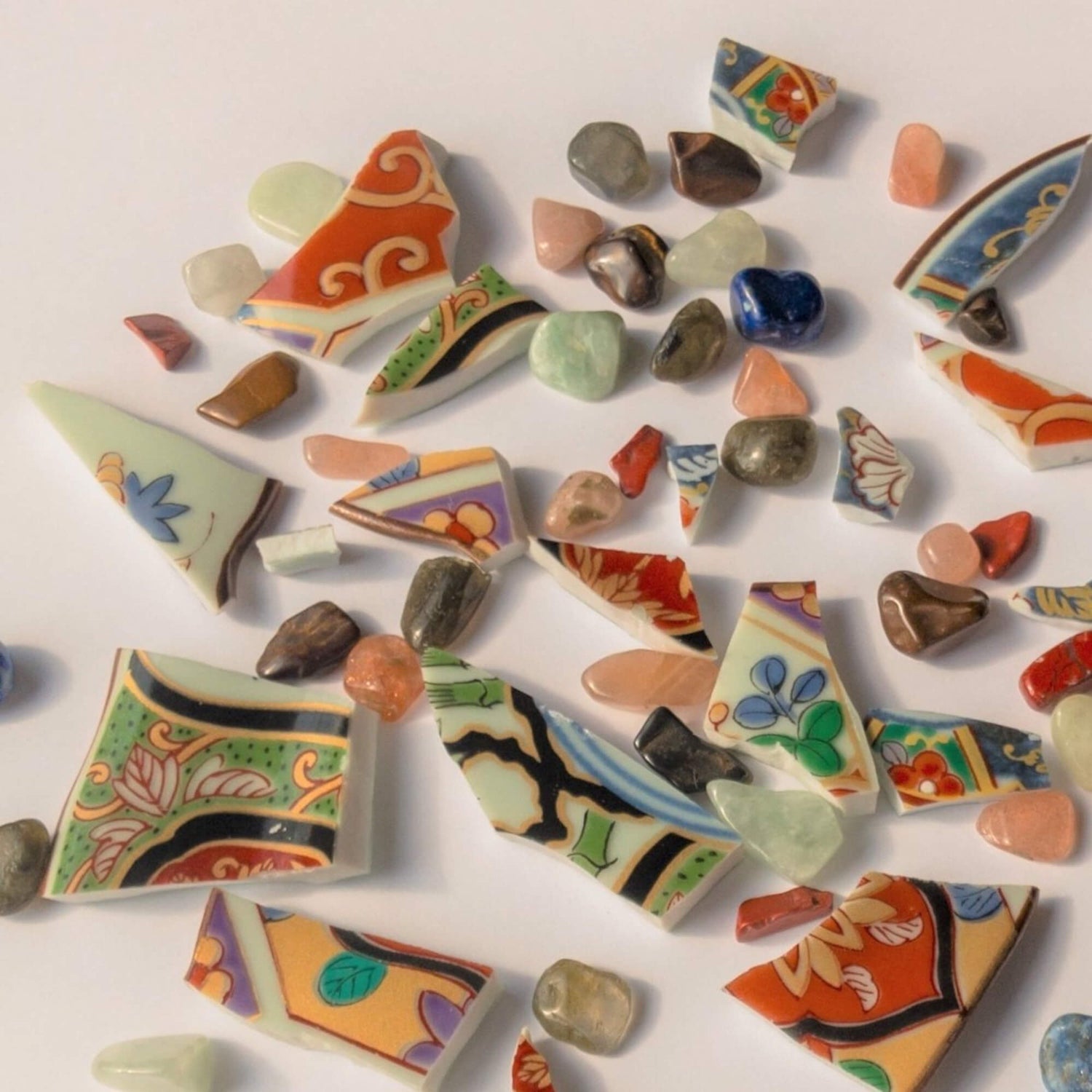 Truly One-of-a-kind Jewelry
Due to the nature of kintsugi, there is no exact same item available in my shop, nor will there be in the future.
Each piece of porcelain is broken differently so that the pattern shown is different. The gemstone used is imperfectly shaped as well, giving each its own organic appearance. With plentiful combination possibilities of porcelain and gemstones, there are just as many ways to fuse them together. There might be some similar items from time to time, but no two pieces will ever be identical. If you find your own perfectly imperfect one, don't miss it or you might not have the opportunity to buy it again!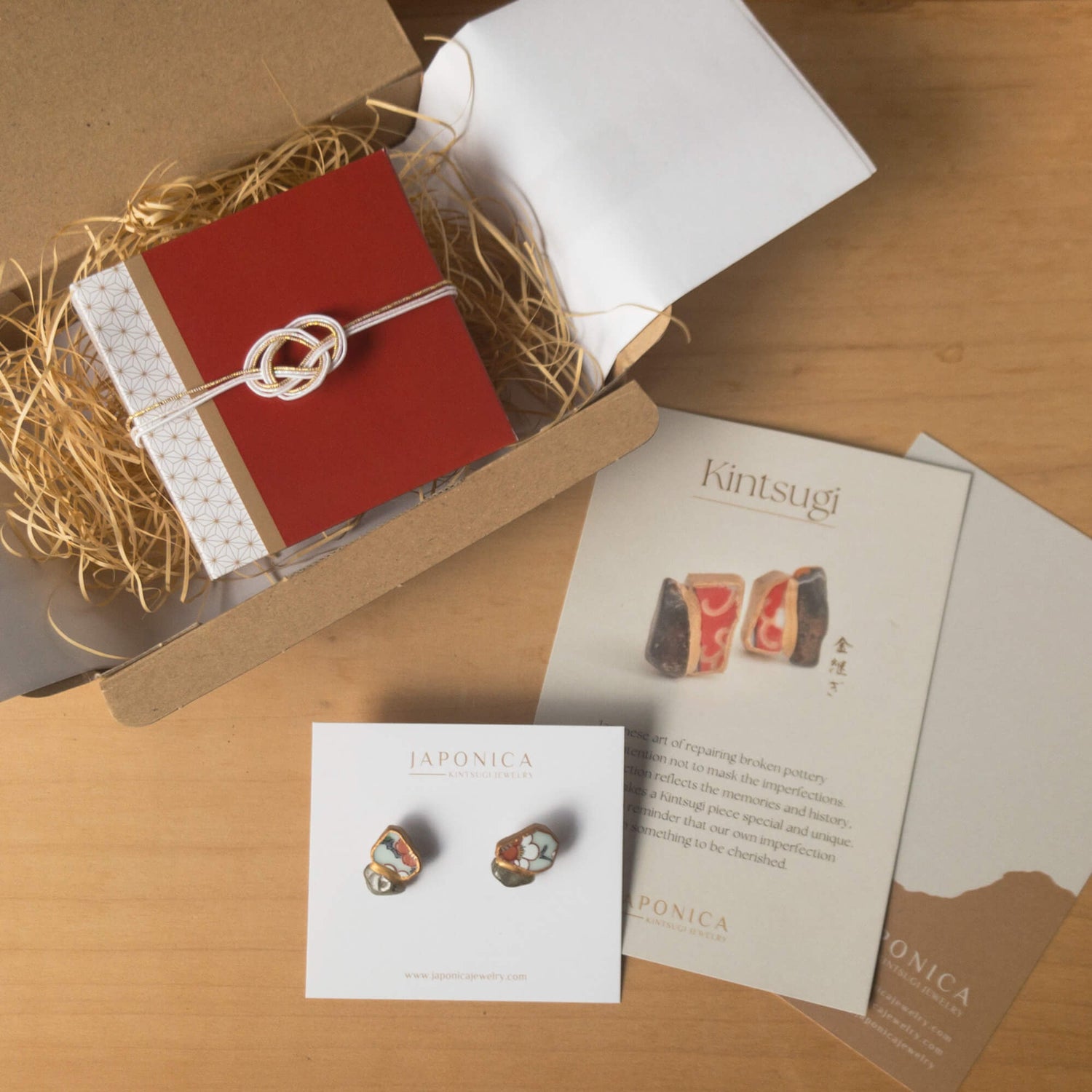 Perfect for Gift
Are you looking for a gift to your family who is recovering from an illness or needs some encouragement after experiencing hardship? As a gift of encouragement, Kintsugi jewelry can serve as a beacon of hope and support while they heal, sending the message that their imperfection is beautiful.
Need something special for your friend who loves to bring global arts and culture with them wherever they go, a friend who cherishes treasure-hunting in the thrift shop or someone who simply loves Japanese culture? Our jewelry is a perfect conversational piece with full of kintsugi meaning behind it.
Want a unique and meaningful 18th or 20th anniversary gift? Kintsugi jewelry is a symbol of resilience and strength, making it the perfect gift for a couple who has weathered the ups and downs of a long-term marriage. Our collection includes a variety of styles and designs, so you can find the perfect piece to suit your loved one's taste. Give the gift of lasting beauty and meaning with kintsugi jewelry.
If you aren't sure which one is best, a gift card might be good idea!
Shop Gift Card